Why Play Therapy?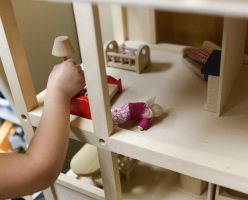 Play therapy is a theoretically based approach to therapy that builds on the normal ways that children communicate and learn. Play therapy is effective because it meets the child where they are developmentally, allowing them access to a therapeutic world in which they naturally speak the language and do not feel threatened. Play is the language of children and toys are their words.

We are passionate about play therapy and working with young children. We feel privileged to witness the power of play therapy and how it has helped children learn to:

---
appropriately express thoughts and feelings

resolve conflicts

process and heal from traumatic events

discover solutions to problems

increase self-esteem

build communication, social, and coping skills
increase independence
improve relationships
improve overall daily functioning

Play therapy is appropriate to treat disorders often diagnosed in childhood including:

anxiety

depression

behavioral problems

mood disorders

Attention-Deficit Hyperactivity-Disorder (ADHD)

Post-Traumatic Stress Disorder (PTSD)

Reactive Attachment Disorder (RAD)
Autism spectrum disorders
abuse and neglect
medical trauma
domestic violence
grief and loss

anger management
life stressors
difficulty with family changes/transitions.

Parenting and co-parenting support is also available to parents and caregivers.

If you feel that your child could benefit from receiving play therapy and would like to make an appointment, or if you have questions about whether play therapy is right for your child, feel free to

contact

us by phone or email.

To learn more about play therapy, please visit the

Association for Play Therapy

website.